Digital Literacies.
Tech Tips - Audio
No matter what medium you're using, having great material to work with is at the start will help with your story later on. Here are some tips to get you started.
Whether you're creating a video or a podcast, having good original audio is critical. There really is nothing worse than having great pictures with not so great audio or a podcast with a noisy or distracting background - it can be disengaging and may render all your hard work useless.  
Here are some pointers that can help make your audio clearer.
Go Mic
is ideal for people that travel
Use an external microphone wherever possible
Computers have USB and microphone input sockets and these can be used to plug in an external microphone. On your desktop PC or laptop, your microphone socket is usually pink (headphones are green) and will look something like the picture on the right.
You can purchase microphones for these sockets relatively cheaply but beware - you get what you pay for! The quality could potentially suffer and that's precisely what you're trying to avoid.
Certain mobile phone wired handsfree headsets may work in these sockets so, if you plan to go on the cheap, try your own phone headset first and see whether the microphone works.
Whilst these types of microphones are useful, often an external, dedicated USB microphone or headset microphone can produce better results.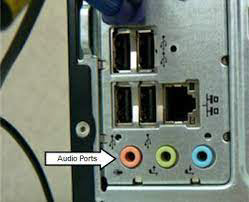 Many (if not all) video recording devices these days have built in microphones. Laptops with webcams, mobile phones, tablets and camcorders have microphones and if you have to rely on these built in microphones for your recording, it's always best to keep them as close as practically possible (preferably, with a headset microphone, no more than 8-10 cm or with a free standing microphone, no more than 30-40 cm from your mouth).  Of course, you shouldn't compromise your scene by having the recording device so close you actually miss the point of the video!  So, how can we achieve this balance?  
Separate your audio from your video where appropriate
In some cases (eg, screen recording demonstrations), it's best to record your audio track independently of your video content then edit them later. This technique is useful for screen recordings where you would record your screen actions first, write a script based on the actions you've recorded, record the script as an audio file then match the audio to the video using some editing software.  
You can, of course, record your voice-over directly whilst displaying your slides on screen to save time. Recording your audio separately, where possible, can give great results and ultimately, better control over your final product.
Using the microphone in your mobile phone
Your mobile phone is an ideal device for recording audio. Why? Because it is optimised for voice transmission. The microphones in modern mobile phones are optimised to pick up your voice & reproduce it as clearly (whilst minimising background noise) as possible. They're also very useful for recording interviews with a few people around a small table or space. Nearly all modern smartphones have built in software for recording audio & you can export the recording file to your computer for further manipulation (or even do it all on the phone). 
Software to make your audio sing!
Recording and editing your audio can be fun and rewarding and it's important to have good, easy to use software to achieve this goal.  One package that stands out head and shoulders above the crowd is the open source package
Audacity
. Audacity is a free, cross platform audio recorder and editor which is both relatively easy to use and quite a powerful tool for digitally manipulating audio files (think of it as Photoshop for audio).  Most of the computers at Swinburne have Audacity pre-installed but if it isn't, it should be available on the Application Catalog for Windows computers and the Self Service option for Macintosh users.
Another powerful audio editor which is also part of Swinburne's Adobe license is
Audition
.  Audition is a very powerful audio editor with many of the features of Audacity and is a part of the Adobe Creative Cloud suite.  It is a little more complex than Audacity but does offer features and functionality normally reserved for higher end audio production packages.
There are many audio editing packages available for both Windows and Macintosh platforms and they all have their merits.  Here are just a couple of points to remember when deciding on an audio editing package:
• Make sure it is easy to use
• Check to see how many file types the package can support to save your final recordings
• Multi-track editing/recording is very useful when you wish to create more complex sounds (such as music or sound effects behind a voice-over)
Many audio recording/editing packages give you the ability to save your files in a number of different formats.  Knowing which file type is best for your needs is really important.  When you are creating audio files, it's always good practice to record at the best quality possible.  Below are three common file types you need to know.
WAV files 
WAV stands for 
Wav
eform Audio file format and is used by (and compatible with) nearly all modern computer operating systems and mobile devices.  It typically stores your recordings in an uncompressed format, meaning that your audio is kept at the highest quality. The big trade-off is that the files kept in this format are quite large in comparison to more modern compressed audio file types (approximately 10 megabytes per stereo minute for WAV files).  Due to the quality of WAV audio files, they are great for use in video creation packages such as Camtasia, Adobe Premiere and Final Cut Pro. If you plan on creating 'audio-only' files for your students, it's not recommended to leave your files in the WAV format as they will be larger to download (and conversely, longer for you to upload) - see MP3 files below.
AIF(F) files 
AIF or AIFF stands for 
A
udio 
I
nterchange 
F
ile 
F
ormat  and is also playable on most modern computer systems and mobile devices. This file format also stores recordings in an uncompressed format, similar to WAV files and has exactly the same attributes in terms of file size and quality.  AIFF files are more typically seen on Apple systems than Windows based computers. Again, due to their quality, they're ideal for use in video creation packages but, like WAV files, this format is not ideal for the creation of online 'audio-only' files.
​
MP3 files 
MP3 stands for Moving Picture Expert Group (MPEG) Layer 3 file format.  This is, by far, the most widely recognised and popular audio file format in current use and is playable by all modern operating systems as well as mobile devices.  It stores recorded audio in a compressed format which creates smaller files sizes whilst maintaining quite reasonable audio quality (typically, MP3 files are approximately 3 megabytes per stereo minute).  For the audio purist, MP3 files are seen as a lossy file format and do not sound as good as AIFF or WAV files but the general feeling by most users is that MP3 files sound fine and offer little degradation to the audio quality over other lossless audio files (such as WAV and AIFF).
MP3 files are great for 'audio-only' recordings for online use as they are much smaller than AIFF or WAV files and are easier to upload and download.  MP3 files can happily be used in video creation packages as well but sometimes MP3 files sourced from different places can be of variable (and sometimes dubious) quality.
Digital Literacies.
Tec Tips - Audio